Plastic Pall Ring with High Mass Transfer Velocity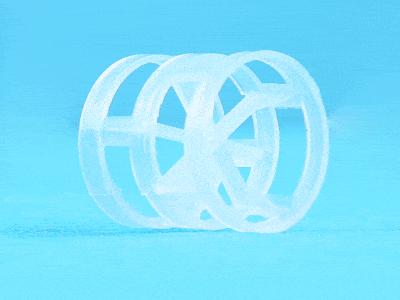 PPR-01:
360° shows of plastic pall ring for comprehensive understanding.
Plastic pall ring is also called plastic pall ring packing. It is a type of random packing, which modifies directly at the shortcomings of raschig ring. This type pall ring makes some structural improvements on the basis of raschig ring. It adds many small rectangular windows on its wall. The blades of these small rectangular windows join together in the center of the pall ring. The openings on plastic pall ring's lateral wall fully utilize its internal surface area and greatly increase the gas-liquid agitation. Therefore, plastic pall ring has better gas-liquid distribution performance than plastic raschig ring.
Plastic pall ring is characterized by high gas velocity, small resistance and large production capacity. It performs well in stripping and scrubbing. This kind pall ring packing has good chemical resistance, it is suitable for various industries, such as chlor-alkali industry, gas industry and chemical industry. It is widely used in carbon dioxide degassing towers, ozone exposure reaction towers, vacuum distillation towers and other reaction towers.
PPR-02:
The rectangular openings of plastic pall ring largely increase its internal surface area and mass transfer velocity.
PPR-03:
Plastic pall rings are available in various materials, such as PE, PP, RPP and CPVC.
Specifications:
Material: PE (polyethylene), PP (polypropylene), RPP (reinforced polypropylene), PVC (polyvinyl chloride), CPVC (chlorinated polyvinyl chloride) and PVDF (polyvinylidene fluoride).
Lifespan: more than 3 years.
Package: plastic bags, cartons.
Table 1: The Technical Parameter of Plastic Pall Ring
Item
Size
mm
Surface Area
(m2/m3)
Voidage
Bulk Number
(n/m3)
Bulk Density
(kg/m3)
Dry Packing Factor
(m-1)
PPRT-01
16 × 16 × 1
188
91%
170000
85
275
PPRT-02
25 × 25 × 1.2
175
90%
53500
69
239
PPRT-03
38 × 38 × 1.4
115
89%
15800
69
220
PPRT-04
50 × 50 × 1.5
93
90%
6500
52
127
PPRT-05
76 × 76 × 2.6
73.2
92%
1927
48
94
PPRT-06
100 × 100 × 3
52.8
94%
1000
48
82
Features:
Good heat resistance.
Large internal surface area.
Effective mass transfer velocity.
Good chemical resistance.
High operating flexibility.
Cost effective.
Applications:
Applied in various mass transfer towers for stripping, scrubbing and absorption.
Used in the industries of chemical, gas, petroleum, chlor-alkali and environmental protection.
Used in carbon dioxide degassing towers, ozone exposure reaction towers, vacuum distillation towers and other reaction towers.
Inquiry for Our Product
When you contact us, please provide your detail requirements.
That will help us give you a valid quotation.
Products List
Metal Random Packing

Plastic Random Packing

Ceramic Random Packing